Borussia Dortmund's performance at VfB Stuttgart on Saturday was surprisingly weak at times. Just six months ago the Swabians were on the brink of relegation to the 2nd Bundesliga. However, the team now seems much better trained and plays according to a game plan clearly specified by Sebastian Hoeneß. BVB, on the other hand, may have the strongest individualists on paper, but it is too often random.
This applies above all to the design of your game, but also to your work against the ball, as the Stuttgart match clearly demonstrated. For a change, Dortmund had significantly less ball possession than their opponents, but only managed to capitalize on it slightly.
A weak point of the team led by Edin Terzic is the midfield, the true heart of most teams. Of course it was to be expected that Jude Bellingham's departure would have a negative impact on BVB because such an exceptional player cannot be replaced one by one.
Where Dortmund's greatest strength lies
However, Dortmund didn't even come close to giving the midfield a new identity.
Recently Terzic tried, for example, a double six consisting of Salih Özcan and Marcel Sabitzer or a three-way combination in which the two mentioned were completed by Felix Nmecha. None of these three, like the other central midfield options, can currently take on the creative part in building the game.
For this reason, many passes in the opening game end up on the flanks and not through the opponent's midfield line. Only rarely does BVB achieve significant gains in terms of space and corresponding freedom for the attacking center around Julian Brandt and Marco Reus.
But the ball must get to them, because that is where Dortmund's greatest strength lies. If Brandt, Reus or Donyell Malen are largely left out of the game, there is obviously no danger of scoring.
When it comes to gaining space through passing, Dortmund are statistically well behind Bayern Munich, Bayer Leverkusen and VfB Stuttgart and on par with TSG Hoffenheim and Eintracht Frankfurt.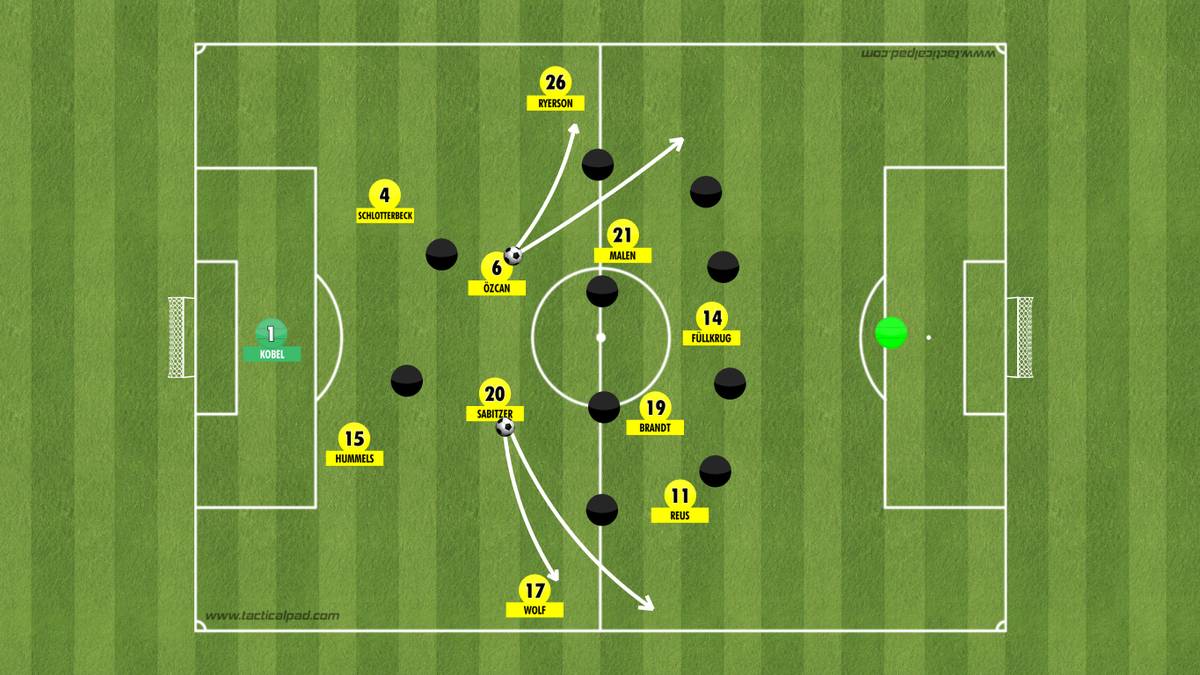 The structure of the BVB game under Terzic as graphics
Terzic must start from here
But it is also problematic that BVB was also vulnerable defensively in the match against Stuttgart, for example, as well as against Bayern Munich. Sabitzer and Özcan rarely managed to close the spaces in front of the defense or provide the necessary support to the full-backs.
Overall Dortmund is inferior to some Bundesliga teams in terms of group tactics, i.e. in terms of cooperation of individual parts of the team. Such weaknesses can be attributed to the experienced players themselves, but also to coach Terzic.
There is no short-term solution in sight. It would be conceivable for the Dortmund coach to pull Brandt back a bit. The 27-year-old has played many good six- and eight-player games in his career.
However, he is not very strong defensively in one-on-one situations. But given the defeat against Stuttgart, Dortmund should probably abandon the idea that the rather expensive new additions can help form a defensive bulwark.
BVB needs a dominant playing style
What BVB needs is a dominant style of play that ensures that opponents rarely reach the final third of the pitch due to the high percentage of ball possession.
But to force possession of the ball and defend it against high-pressure teams, you need playful creativity and revolutionary passing. This is exactly what BVB currently does not have.
The extent to which Sabitzer & Co. will ensure this in the coming weeks is very questionable. This is why Terzic needs to think again.